Hilda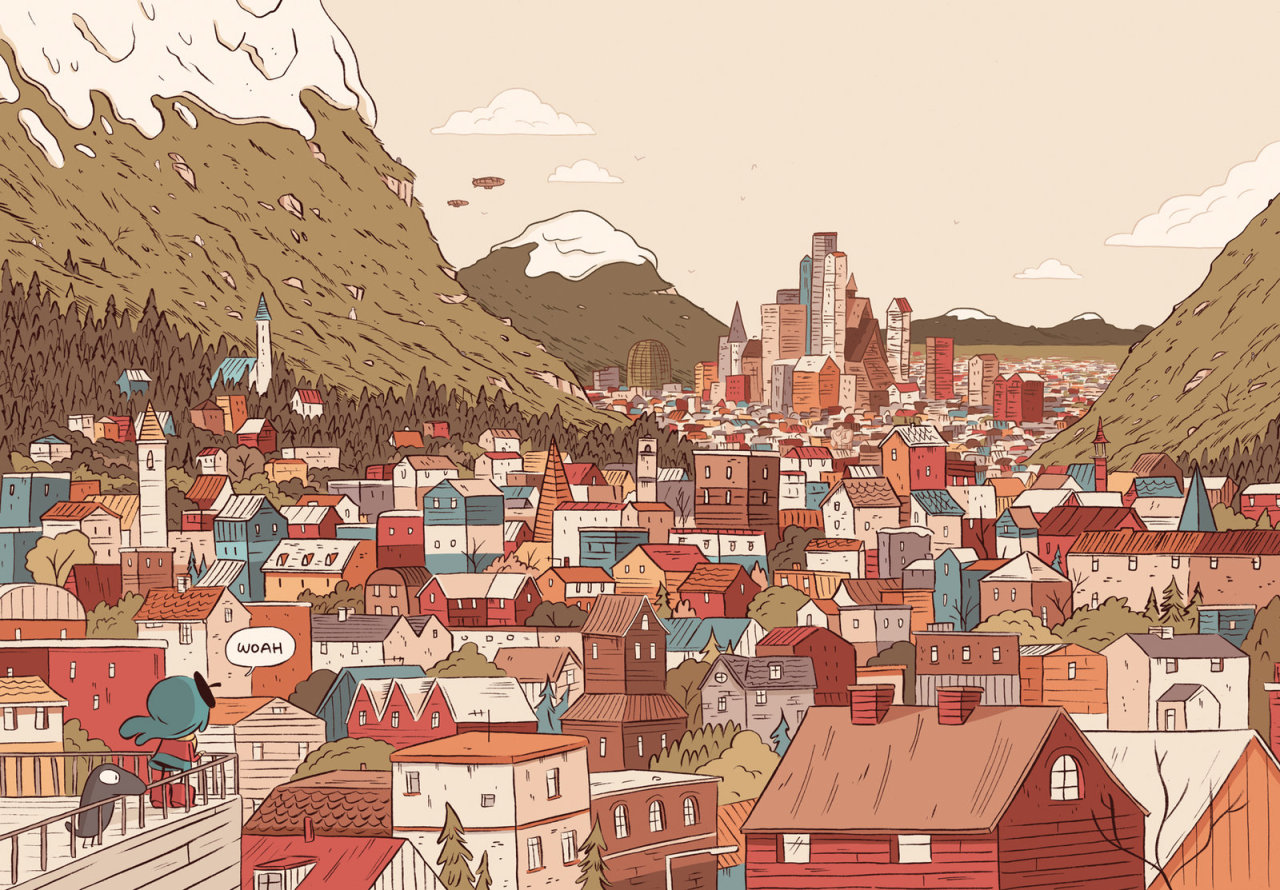 One of the highlights of my summer has been reading Luke Pearson's Hilda books. I like the description that Alexandra Lange gives:

For such a small girl, Hilda is about to get very big, and I am not at all surprised. My five-year-old daughter brought the first book home from a friend's house, and it took reading only the first few pages, beautifully laid out, with the rich color palette of a Nordic sweater, to know that Hilda was something special. Trolberg may have a complex of bell towers (bells keep trolls at bay, we learn), but it also has a glassy downtown à la Houston. "All of these stories are riffs on folktales that are as old as time, that have taken a hard left turn through Luke's imagination and all of these contemporary pop-cultural sensibilities," Kurt Mueller, the executive vice-president at Silvergate Media, which will produce the Hilda series, said. (The company's other series include "The Octonauts" and "Peter Rabbit.") "Like the movies of Miyazaki, she feels totally of the moment, but she's reacting to something that feels ancient and archetypal," Mueller said. The nostalgic Northern European setting recalls Miyazaki's romanticism, while Hilda's communion with the conjoined natural and spirit worlds recalls San from "Princess Mononoke" or Satsuki from "My Neighbor Totoro."

My first point of comparison was Lewis Carroll's Alice, though Pearson said that he never thought of her. But, greeted by a little girl in an unchanging outfit, who is confronted with all manner of creatures great and small, in landscapes giant and miniaturized, who else are we to think of? What's markedly different with Hilda is the attitude with which she greets her wonderland. She does not fall down a hole but strides, prepared with sketchbook and satchel, into the wind and weather. The first words of the first book, "Hilda and the Troll," are delivered by a radio announcer: "But tonight clouds rolling in from the east … temperatures remain mild … with the likelihood of heavy rain." Hilda, reading a tome on trolls at the breakfast table, rushes outside her red, peak-roofed cabin to see storm clouds forming over an adjacent peak. "Mum! Mum! It's going to rain tonight! Can I sleep in the tent?" And Mum says yes.

Illustrated maps, folktales, creatures, Iceland, Miyazaki, heroines, "landscapes giant & miniaturized"? Sign me up.

Seriously, though, Moomins + My Neighbor Totoro + Alice + Princess Mononoke. I'll add some Pippi too. 😍

Then the books came, I read them, and loved them, and I shared two images. See also the additonal links at the bottom of my bookmark of Alexandra Lange's review.
Cosigned!