Arizona 2020
We went to Arizona for spring break! As usual, I'm marking down an overview of the trip because I have a terrible memory and need to write things down in order to remember them.
Felix is in fourth grade, and with his 'Every Kid in a Park' free pass to all National Parks, Lands, and Waters, we asked him to pick a National Park he'd like to see. He chose Grand Canyon*.
So: we combined this with Erika's dream to try out that #vanlife. We flew into Phoenix, and rented a camper van. It was fun.
The whole trip was very weird with the coronavirus shit hitting the fan in the US, because we were in an international tourist destination but also camping without cell service or wifi. We'd drift into cell service, my phone would blow up with ominous news, and then we'd go back to the woods. I definitely had some small but nonzero worry that they wouldn't let us back on a plane to get home.
Here's the itinerary:
We stopped in Phoenix one night to visit my cousin (and had a great time), then drove up to the Canyon and camped for three nights.
I'd been once before about twelve years ago, and if anything it was more impressive than I remembered.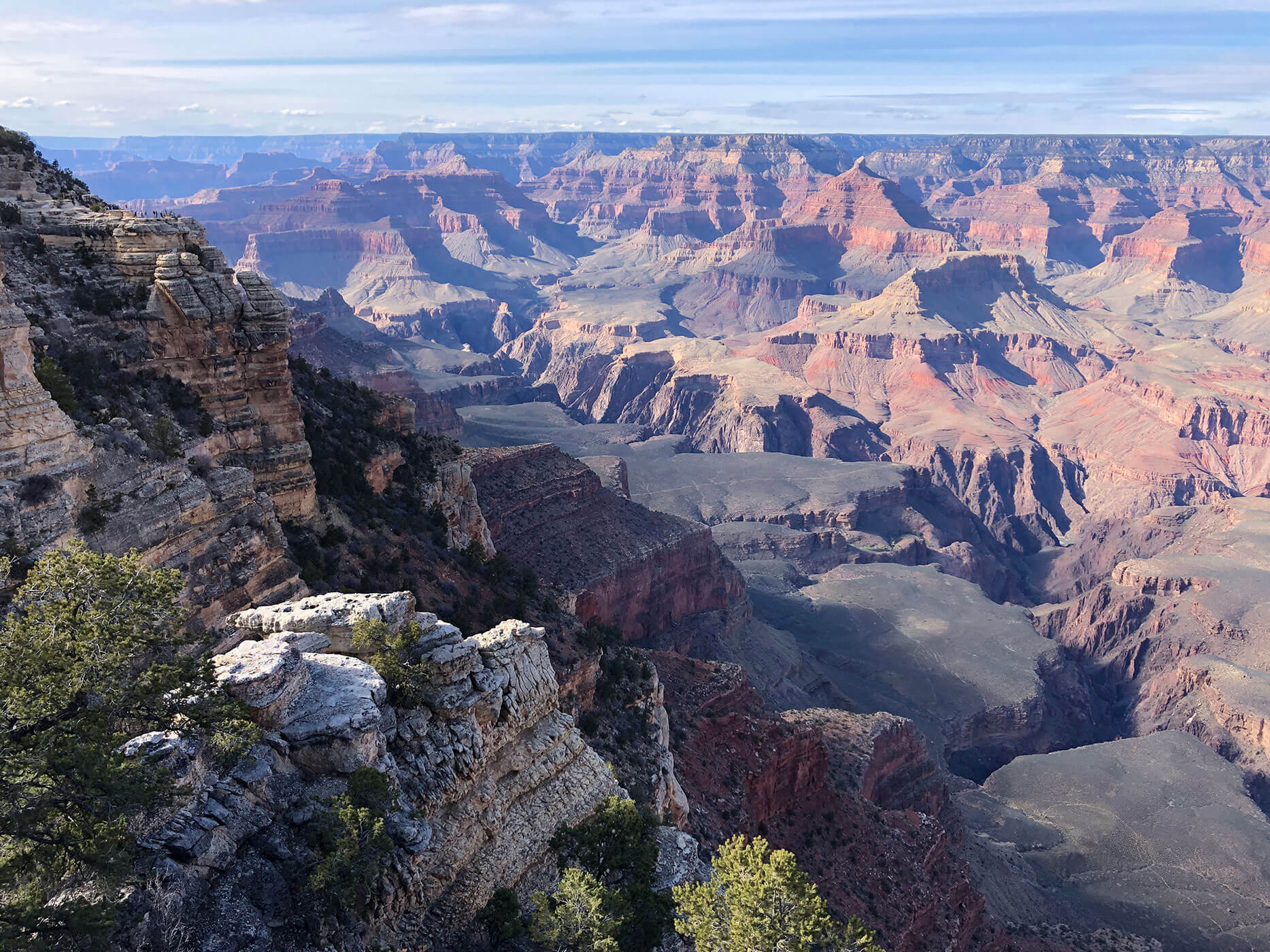 On Monday we did our big hike, which was just 3 miles down and back on the Bright Angel trail. That was fun, and the kids did great. It made me want to plan out a much longer hike.
One weird highlight: seeing an air rescue. Somebody fell on the icy part of the trail, and had to get choppered out of the canyon. It looked terrifying to get strapped to a stretcher and then dangled 50 feet below a helicopter OVER THE GRAND CANYON.
The next day we woke to heavy snow and clouds, which was beautiful and also made for interesting canyon views.
The cloud cleared enough that we got to see a tiny slice of the sunset knife into the canyon at a super low angle; it was really beautiful.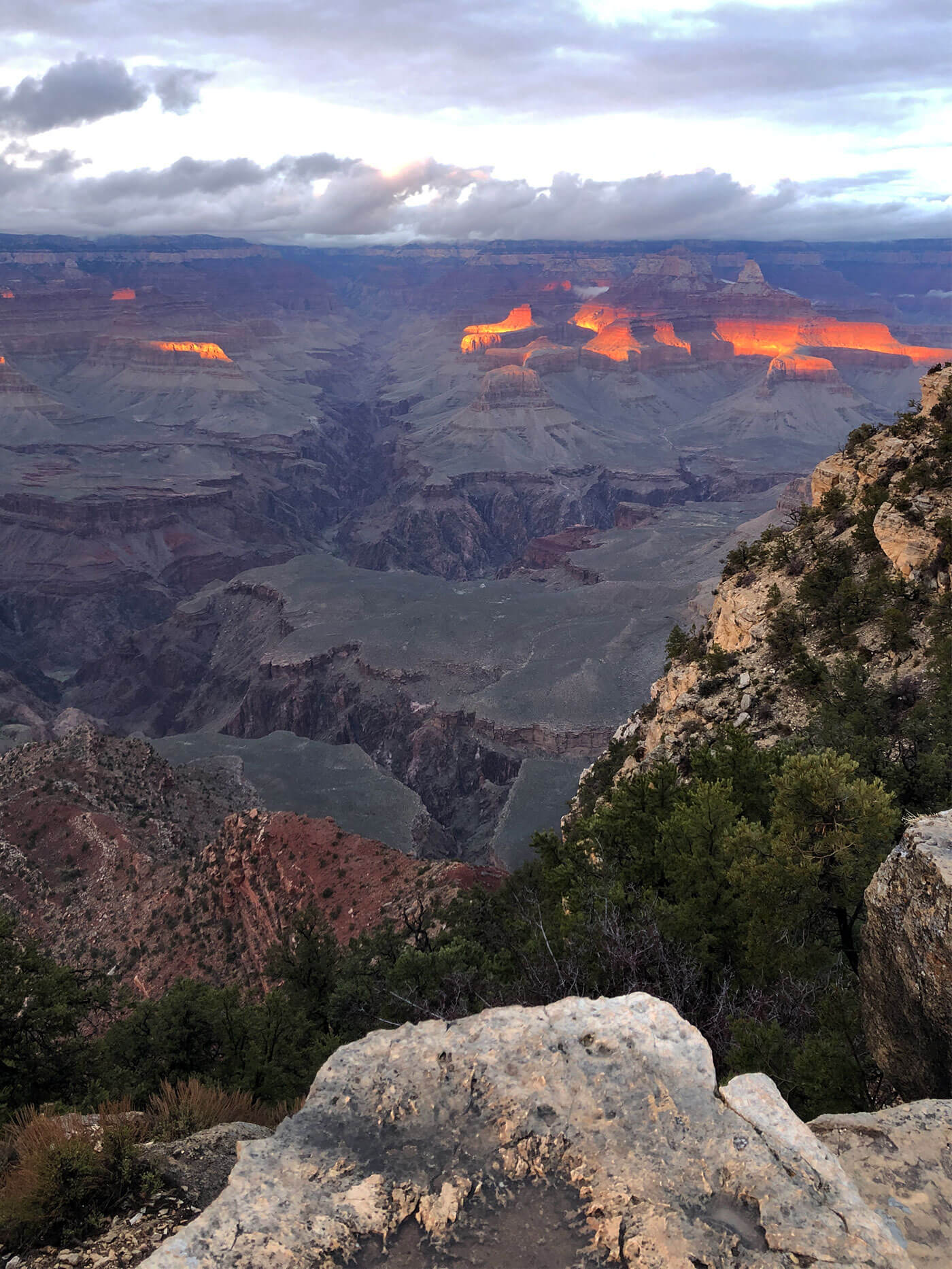 We packed up after three nights and headed south; we pulled over at Kaibab National Forest Campground because Trudy was feeling carsick, but it was unexpectedly a gorgeous park with literally nobody around; we stopped and cooked breakfast by the lake.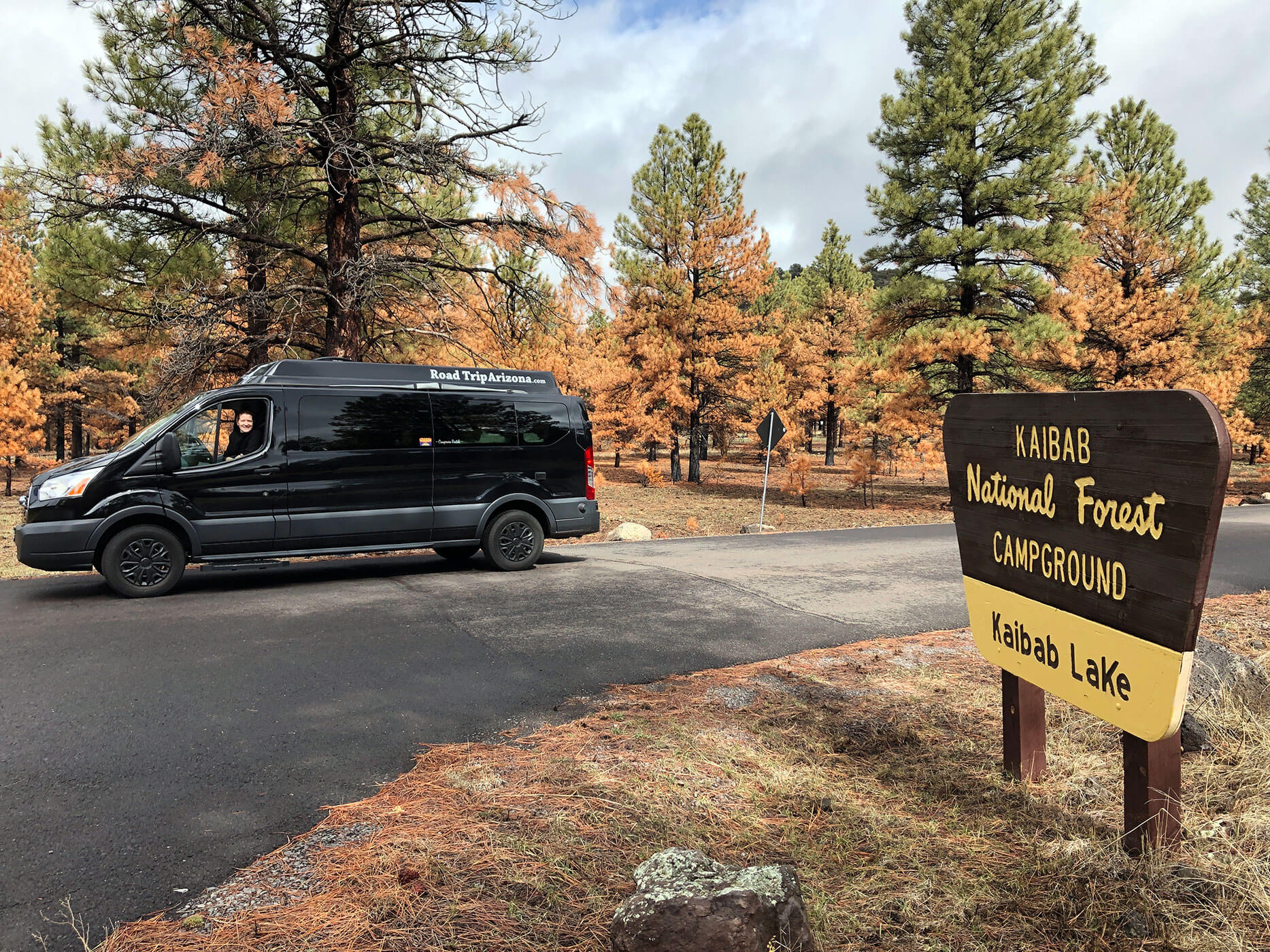 Then we spent lunchtime in Flagstaff, and spent the afternoon driving south on a scenic route thru the Coconino National Forest and the Tonto National Forest (State route 3 thru Happy Jack, 67 to Strawberry and Pine, then 87 south). This was a surprisingly pretty drive, through much more elevation and forest than I expected. There were a dozen places we wished we could have explored or camped at, esp Saguaro Lake. Apparently there has been a ton of rain lately, and everywhere was blooming with greenery and wildflowers.
We did camp at Lost Dutchman state park, (pictured at top), and that was another beautiful spot I didn't expect. Arizona really has four new converts - there was so much more than desert to be seen, and it was all so interesting. Then again, we probably love anywhere when it's 45 degrees and rainy. We probably would hate anywhere that's 95 degrees and sunny.
Our last day was back in Phoenix: returning the van, lunch with my cousin again, and hanging out with our friend Richard, up from his retirement location in southern Arizona.
The verdict: America, man!
*Turns out: everybody says The Grand Canyon, but at the park it's only Grand Canyon, no definite article required.