On keeping sketchbooks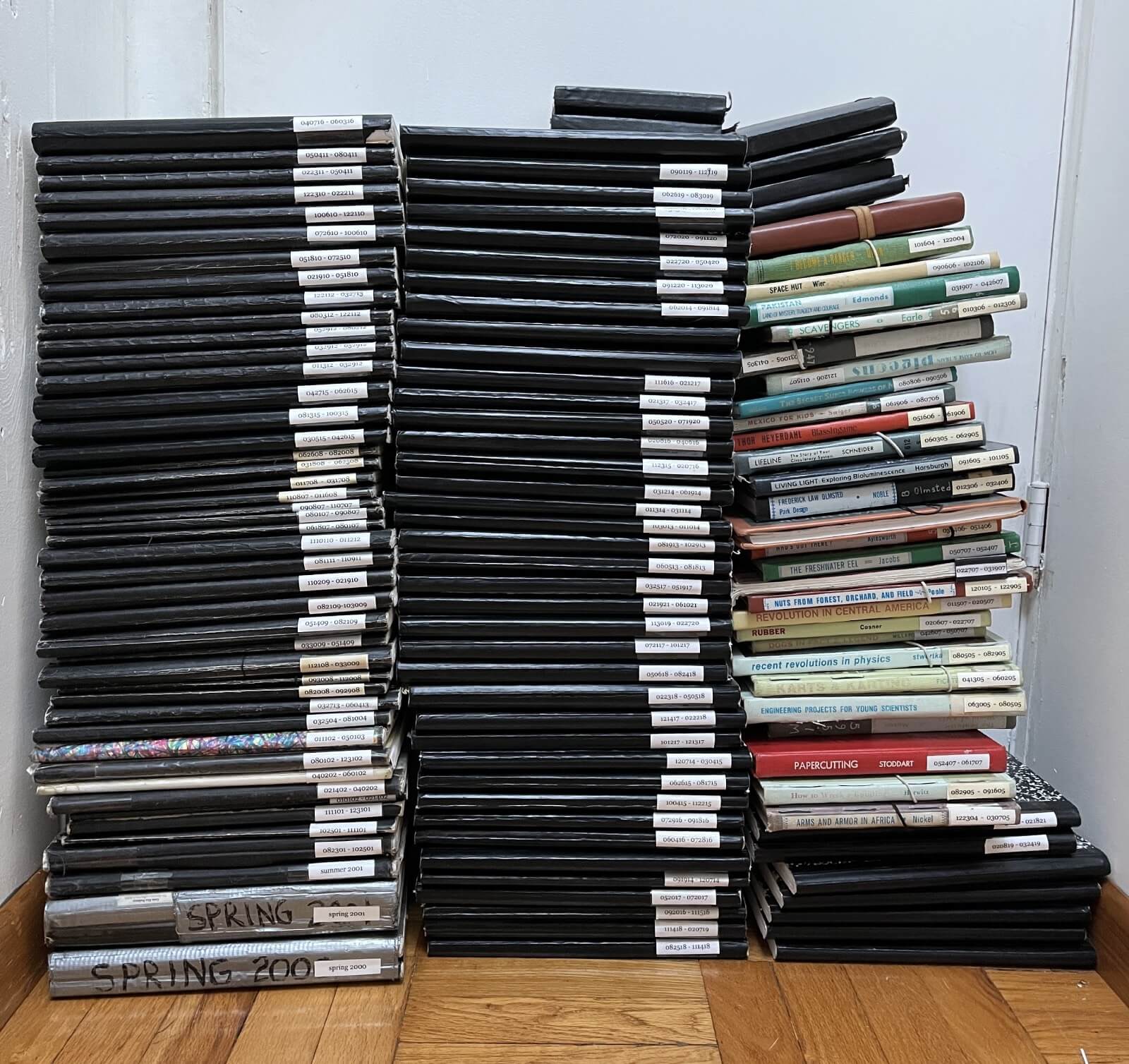 I carry a sketchbook. I've been keeping a sketchbook since 2000. This weekend I stacked them all up to try to get a photo. It was more than I expected.
My sketchbook is basically attached to my person. If you've ever had an in-person meeting with me, my left arm probably looked like this:
As an art kid, I was always drawing and doodling. The corner convenience store I biked to as a kid had cheap blank notepads - I was always torn between spending my allowance on candy vs those sweet, shiny blank paper notepads.
My first real sketchbook in this stack was enforced by my Design I professor in college, Jon Swindell. Jon was the quintessential Art School Instructor: helpful but demanding, provocative when you needed him to be, kooky in ways that just delighted this suburban dumbass. An inspiration, truly.
When Professor Swindell told me designers should always carry a sketchbook, I believed him.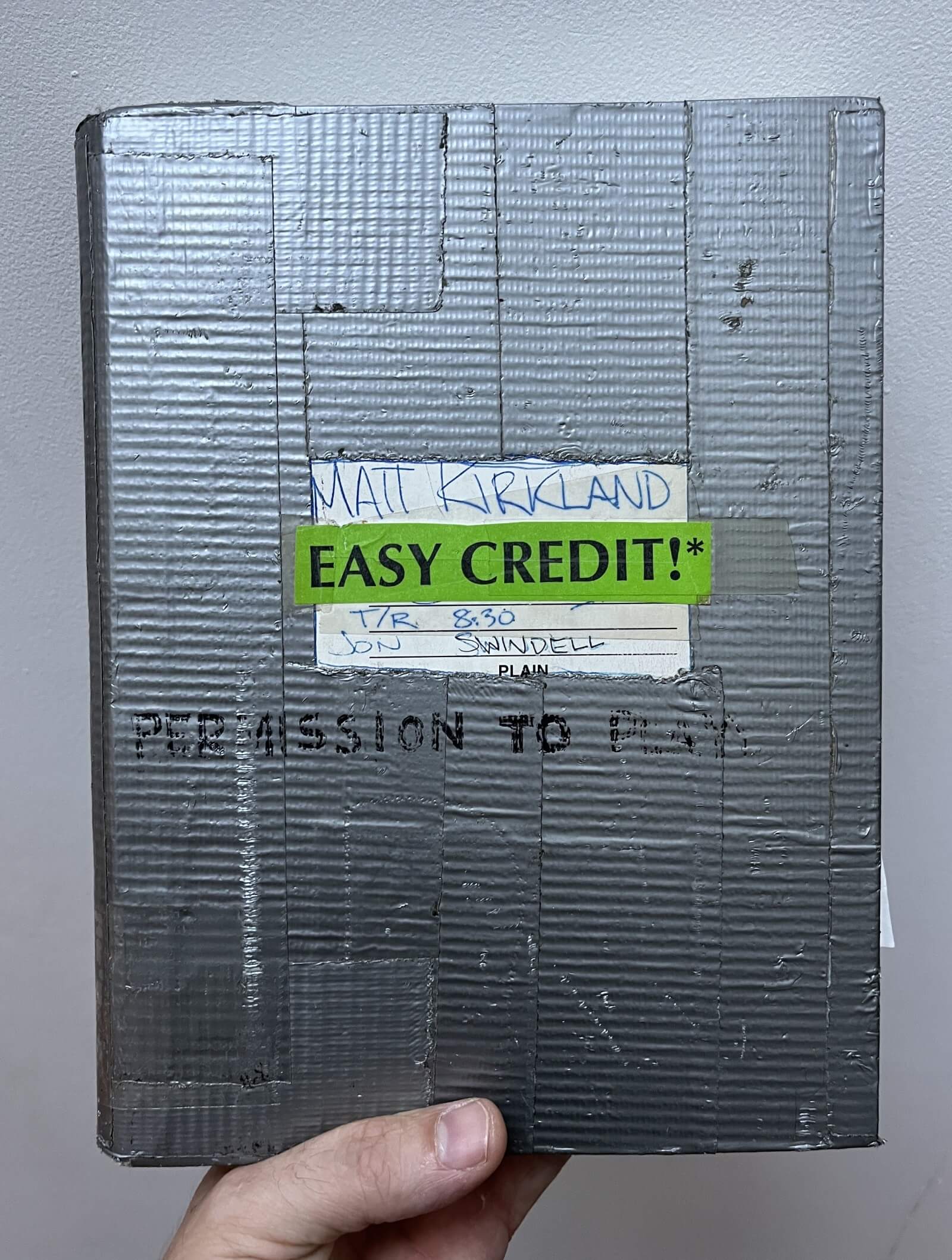 The second looked like this: I moved into decorating them with ephemera for a while. A bit of cosmic foreshadowing for my future job at a craft/scrapbooking supply company!
And now they all pretty much look like this.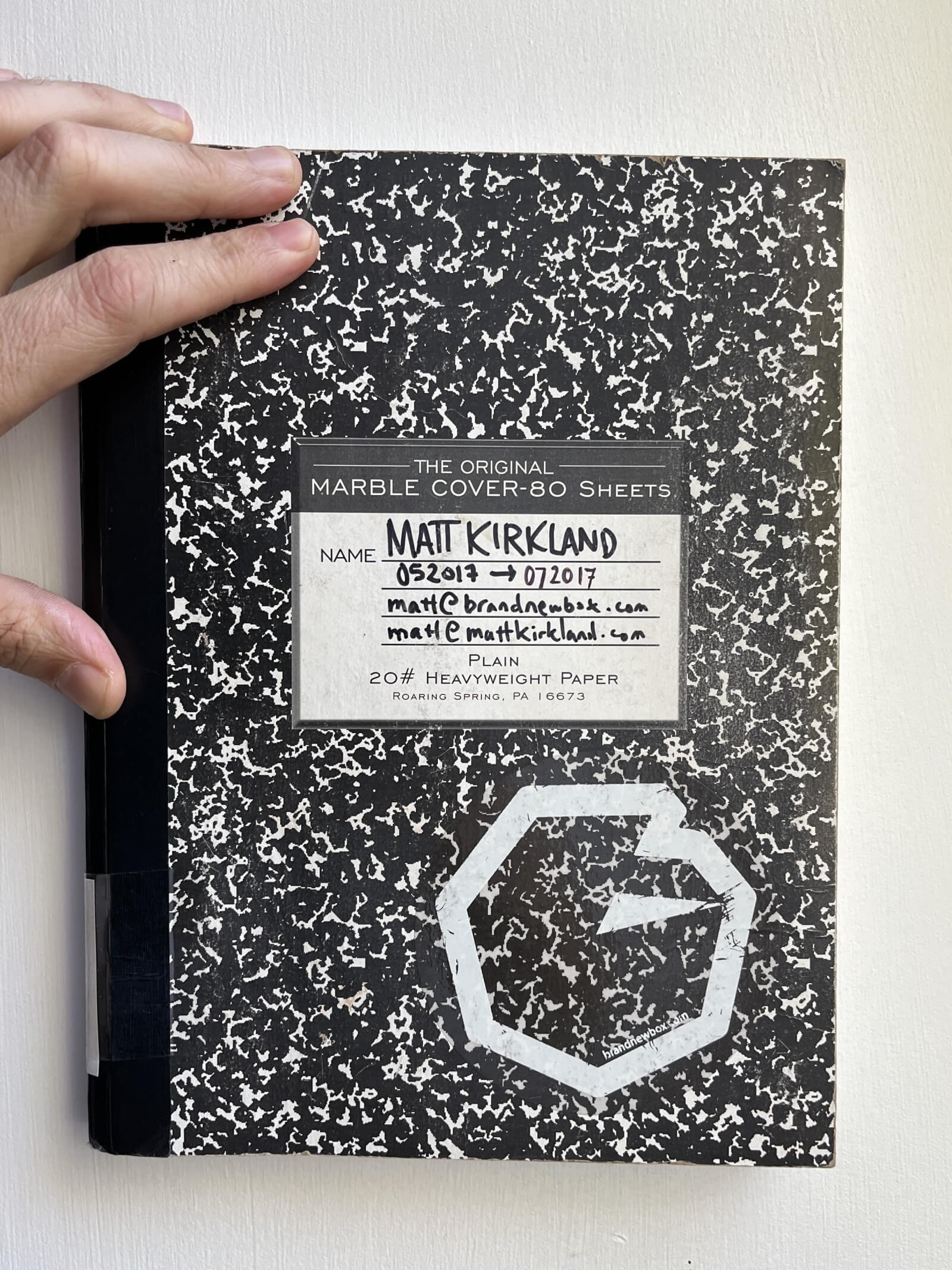 Why keep a sketchbook?
So why do I keep a sketchbook? Really it's more a notebook these days, but personally I process and remember stuff better in physical media. I also find that I get distracted in meetings, and I can pay better attention to things if my pen is moving.
But of course I'm a designer too - a lot of my work is planning and sketching, even if as Brand New Box has grown my job involves less design and more organizing.
Back in student days and first jobs they were all design and inspiration; my work back then was all about creativity and it was fun to make the pages look impressive, ca 2003: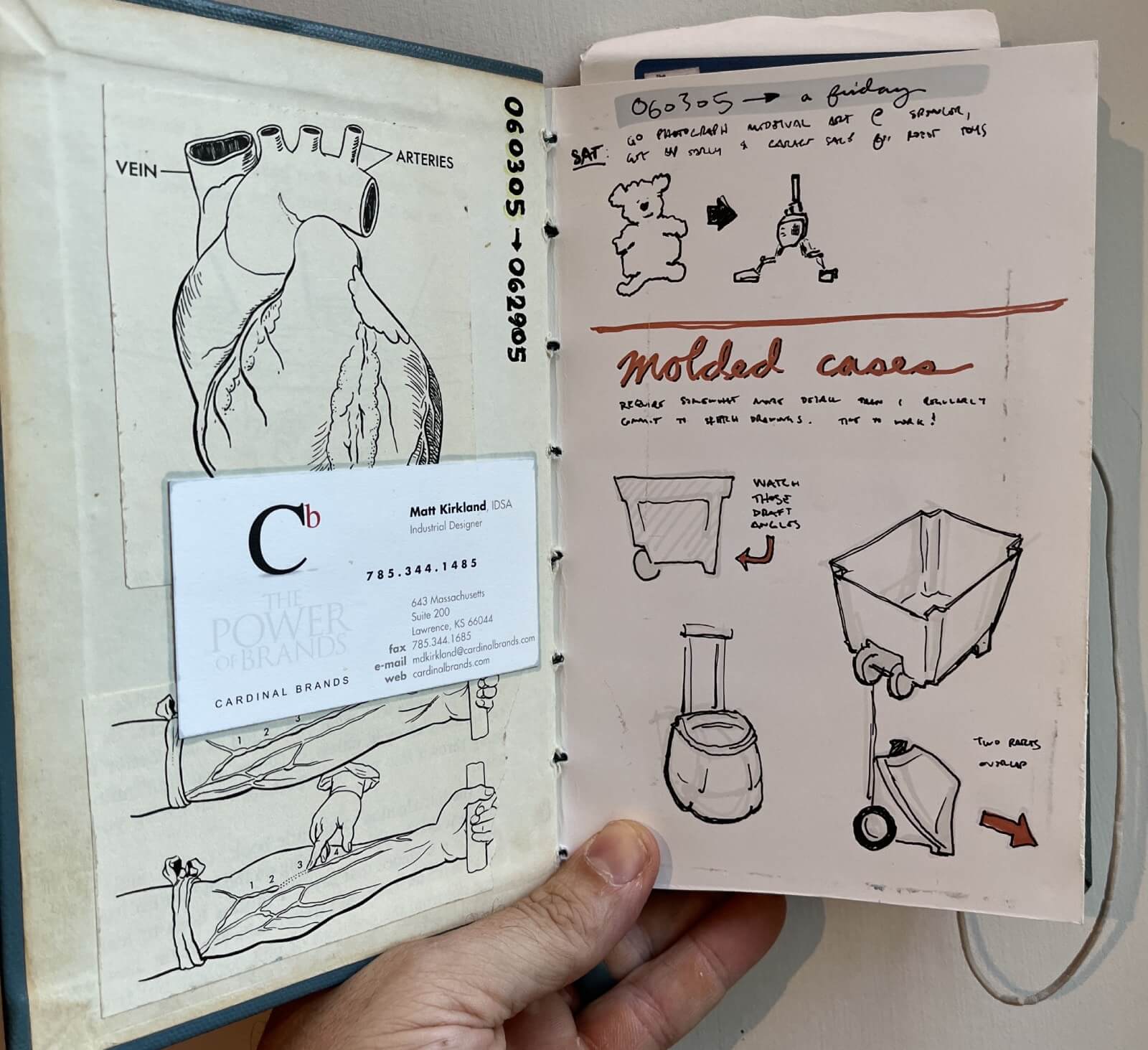 Twenty years later, my sketchbooks are less pretty drawings, and a lot more operational notes. I still draw sometimes, though. But more likely the day's pages are quick wireframes, to-do lists, and pages upon pages of meeting notes.
There are a LOT more pages like the left, not very many like the right.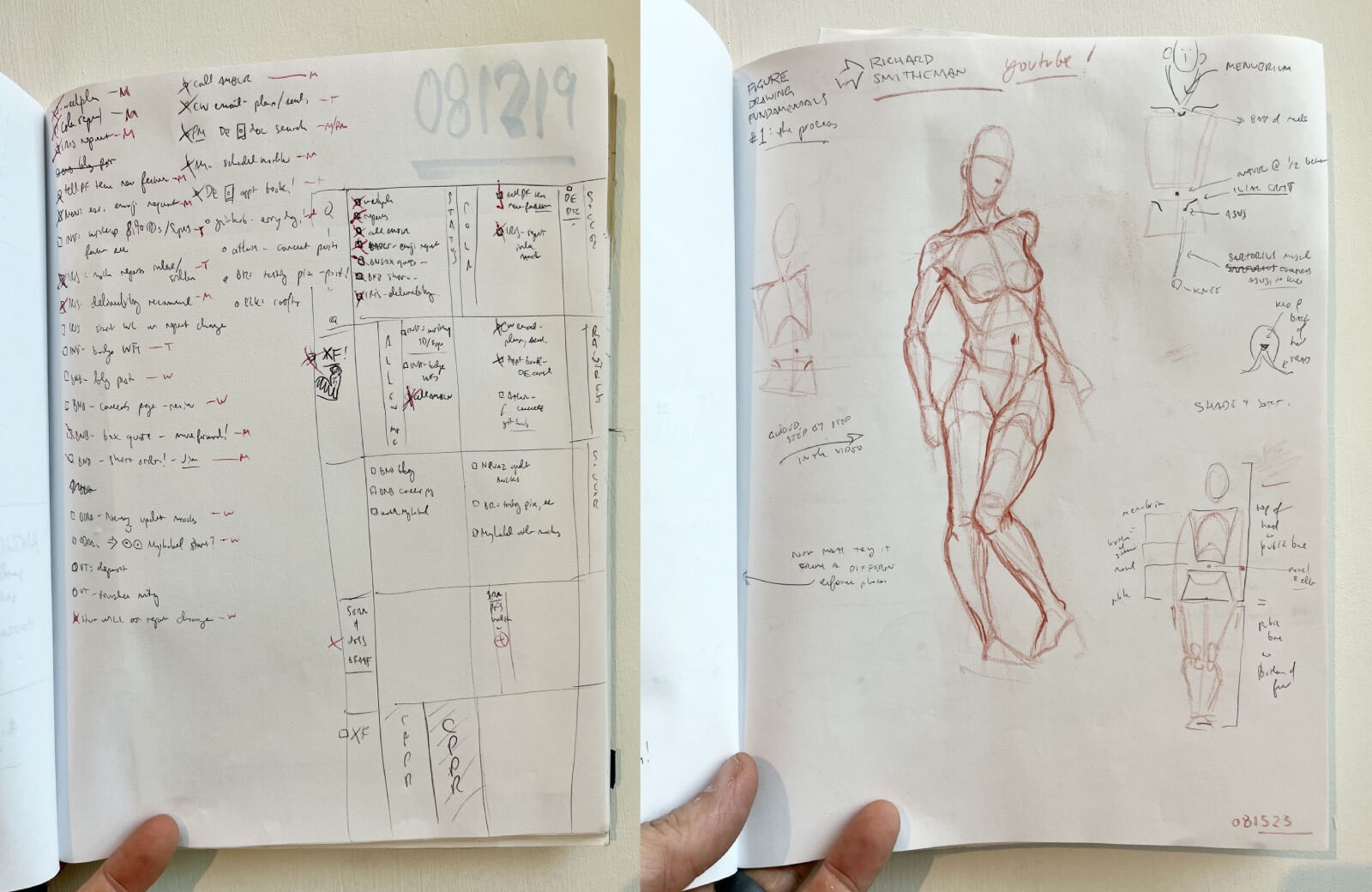 (Yes, my handwriting is atrocious, yes I can read it, yes I apologize to all my grade school teachers who gave me Cs in Penmanship. You tried.)
But what's it FOR?
Of course, a cute-looking page in a sketchbook is just 100% for ME; I don't share them, it's not work product that any of our BNB clients can use. To make it instrumental it needs to get out of the sketchbook and into the real world - a design in figma, or code, or an email, or a schedule, or a GitHub issue, etc. It's an operational tool.
But it DOES help me actually THINK. Just like people say 'writing is thinking', drawing / sketching / and even note-taking is thinking for me as well. I can have a fuzzy idea in my head that seems basically correct, and then as soon as I try to instantiate it on paper I find all its shortcomings and half-baked-ness. Or opportunities to improve or connect that idea to other things!
Plus, I love the disconnectedness of a sketchbook. I can sit and think and plan in a sketchbook, and it doesn't distract me from what I'm doing. The sketchbook cannot ping, buzz, email, slack, or tweet at me. That's invaluable to me, especially as Brand New Box has grown and the range and number of our clients we serve has grown.
Plus it's self-archiving! I don't have to worry about file formats, or disk space storage, or anything. Paper is a truly excellent technology.
Some notes on format
I love the cheap ubiquity of a composition book. It doesn't feel precious. There's no pressure to make every page count with some beautiful drawing or incredible idea. They're cheap too! Unlined ones are increasingly harder to find, though and I've ended buying them in bulk every couple of years. The sketchbook should be workman-like; it's not a fussy tool for self expression, it's a daily tool.
For a few years I had a side hustle with Erika taking discarded library books and stitching blank pages into them (we called it The Novel Novel). The ones we sold were really nicely constructed - great papper, hand-stitched. I used our first prototypes as my daily sketchbooks. But I kind of wish I hadn't, because they interrupt a 23-year run of composition books. But it was fun to carry them around and talk about what we were making!
In it for the long haul
I date and label every sketchbook when it's finished. I go through about one every two months these days, and I've been using the same label template all along. I chose to date them in Georgia because I was committed to this for the long run, and I knew the Georgia font would be around on my computers for decades. I do kind of wish I had learned about big-endian dating sooner, though. But alea iacta est and everything.
Why do I keep them all? I really don't know. But they're fun to make and fun to look back at… even if the tower is getting a little unwieldy.