In the Stacks
Being a 'patron of the arts' sure sounds like a fussy way to identify yourself. But shoot: in 2022 I had an incredible time just putting money down so artists I admire could make art.
This happened with Dracula Daily! The incredible outpouring of reader responses - jokes, memes, text posts, etc - include an outpouring of visual art. When I got the book deal to make a real printed book, I was able to take the advance money and pay reprint rights for some very cool artwork - drawings, paintings, digital stuff - to include in the book.
But one I'm very excited about isn't visual at all - it's writing! To celebrate the new year, I commissioned a new short story by Robin Sloan, best-selling author of Mr. Penumbra's 24-Hour Bookstore and Sourdough. It's a kind of love-letter to Lawrence Kansas, the town where I live, and a celebration of learning new things. We printed nice copies and gave them to clients and friends of my software company, Brand New Box. You can read it here and read a longer version about the process over there.
Hey nerds
While this project was already underway, I saw this viral tweet thread encouraging rich nerds to commission art like the Medicis:
Sometimes I get frustrated when I compare arts and tech salaries, but

look

tech people

I'm not saying you are the problem
I'm saying the exchange rate is in our favor
and someone with a FAANG salary could literally commission their own opera once per year

so we should do that

— Dr Kate Compton #BotGirlSummer (@GalaxyKate) June 8, 2022
(It's worth reading the whole tweet thread. GalaxyKate here makes a great point that honestly: we should all be putting cash down to get more art into the world.)
Now look: we don't make FAANG money at BNB, so this doesn't really apply to us on the scale of 'put on a whole opera every year about why Ruby is better than Python.' But normal people? We can do this too. I commissioned a short story from one of my favorite living authors and it cost the same amount as getting a big painting to hang over the couch. Really!
Except - and here's the part I'm really happy about - when you buy a big painting from a favorite artist, you and your guests are the only people who get to enjoy it. If you commission WRITING, then that story can become available for everybody! (This definitely rhymes with Tim Carmody's idea of unlocking the commons, also a good read.)
Making it physical
So: Robin did all the hard work here and wrote the story (which is great, and again: you should read it). But we also went a little overboard getting this out into the world.
First and foremost: we printed it! A limited run of small handheld books, Field-Notes sized, with a bunch of custom features:
letterpress and cover on a nice rich paper stock
the front is die-cut so those white circles are little windows into the inside
an inside pocket (books with pockets are the best)
a fake library checkout card in that pocket
and yes, are those dates on the checkout card a secret code? I'll never tell.
And also, that card is the spot where we scribble our handwritten note to the clients and friends who got one of these editions in the mail.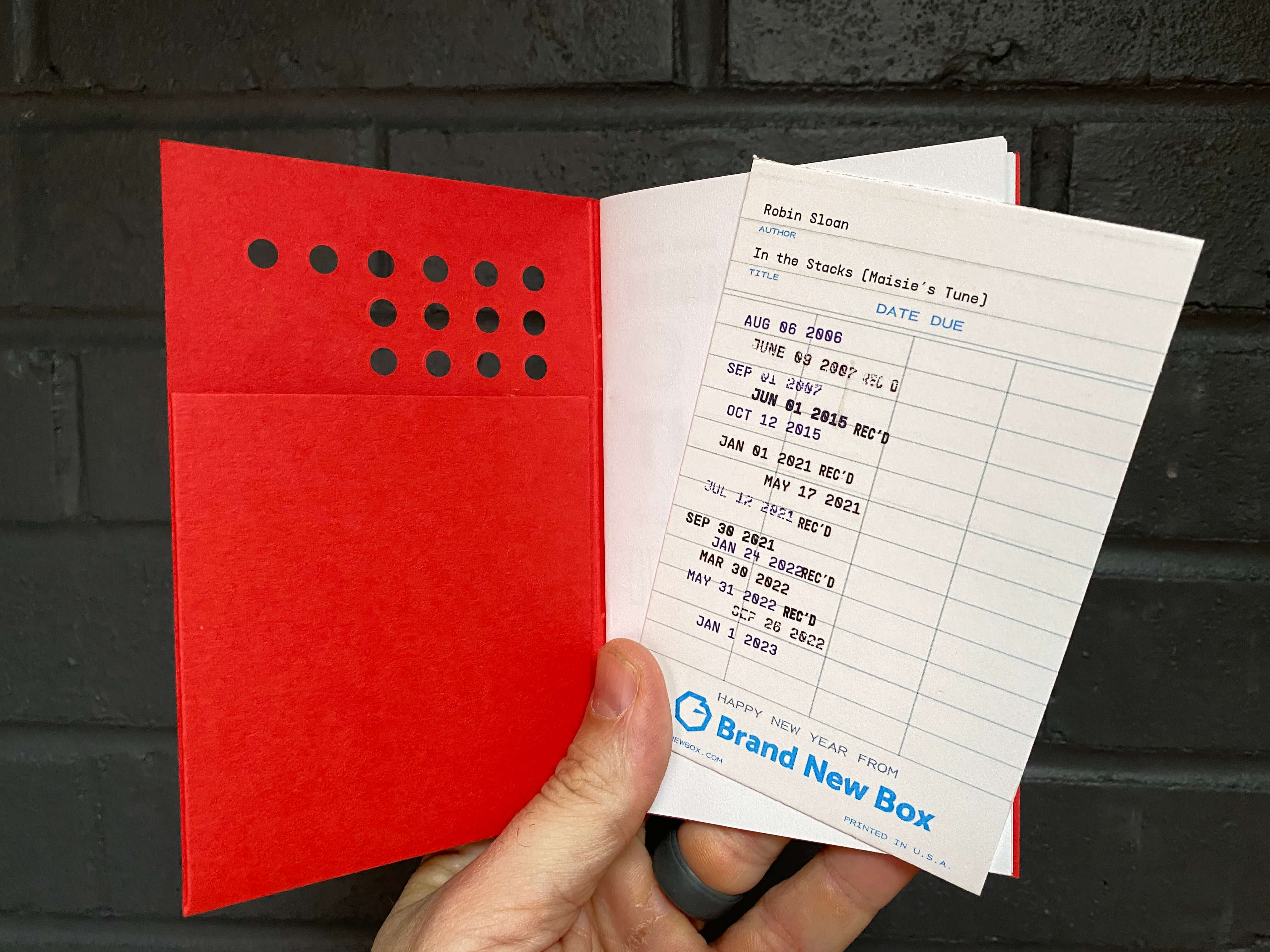 Making it digital
And then, well - I really couldn't resist here. The story features a Big Red Synthesizer - a fictional version of an actual red modular synthesizer at the actual Lawrence Public Library. You can play with it there! In fact, we took one of our Final Friday outings a few years back to learn how it worked and make some music together.
Wouldn't it be fun if we made a little online synthesizer you could make some music with? We did that too.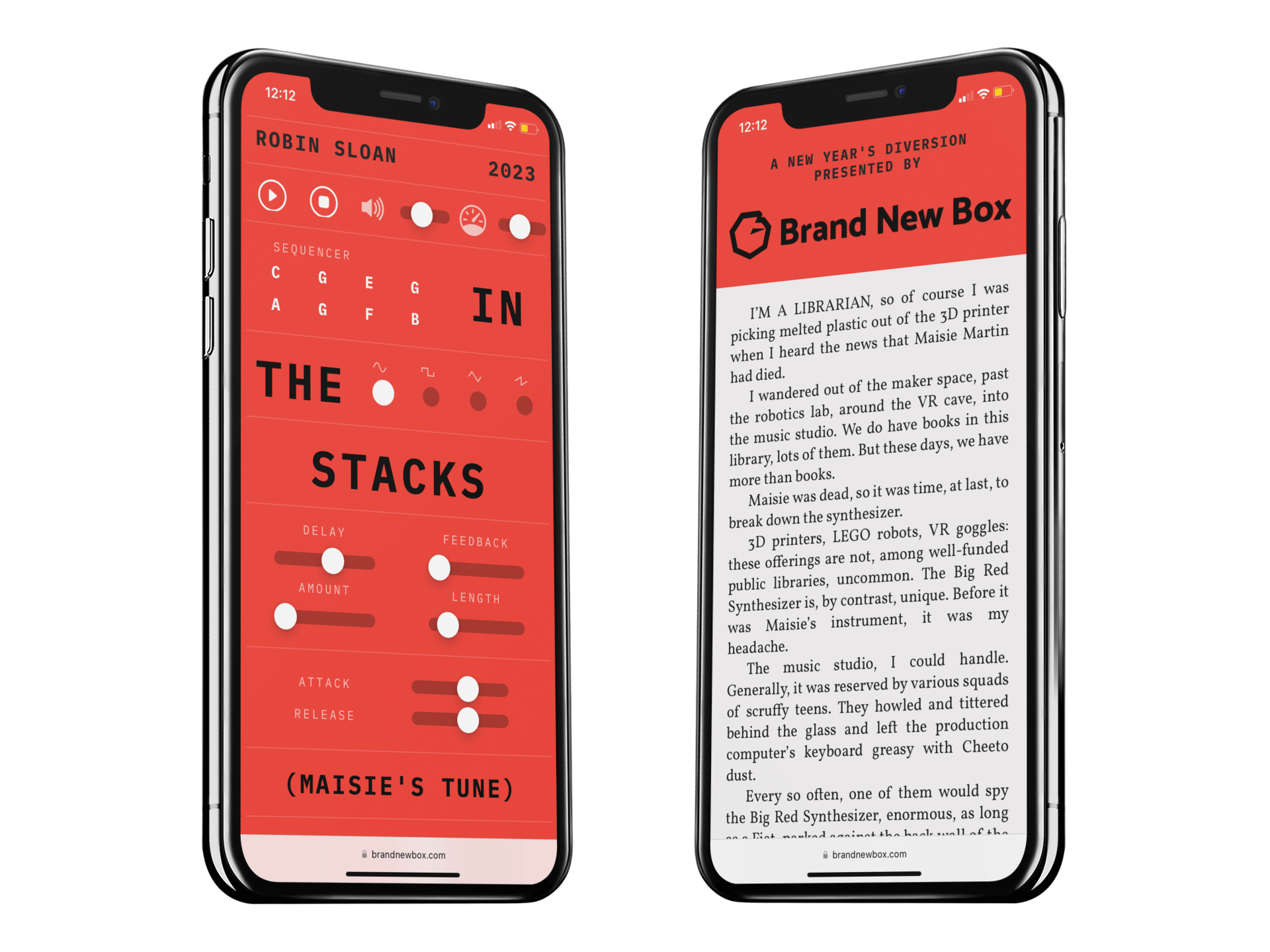 That's it. Go read it already!